The Tigers' season is over, but there's one football game left and only one place left to get ready for game day. Macadoodles do a game day like no other. Get your team ready to watch all the big games with a stop at Macadoodles. Whether you're looking for beer, wine, or spirits, Macadoodles will make your home or tailgate the game day place to be in Columbia this season. Who does game day like no other? Macadoodles do.
Each week, PowerMizzou.com publisher Gabe DeArmond answers questions from Tiger fans in the mailbag. This format allows for a more comprehensive response than a bulletin board message. Keep an eye on your question for the mailbag every week or send it to powermizzou@gmail.com. On to this week's questions.
TigerCruise asks: What is the total NIL paid to players on these teams (estimate):IowaMizzouKentuckyFloridaAlabama
gd: I honestly have no idea. None of the songs are really public and even the ones that are I don't believe. I'm pretty sure the sum of the selection is several million. But I don't know the numbers and I don't know who pays more or less.
firsttiger asks: The Tigers lost a wrestling match to Okie Lite 17-16. After the final fight, it was tied 16-16, but OSU was awarded the win by criteria. What were the criteria, if you know.
GD: I have no idea. I thought I could go to MUTigers and have it explained to me. This is the description of the match: "The No. 8 ranked University of Missouri wrestling team lost a close dual to No. 11 Oklahoma State 16-17 on Sunday, Feb. 5. The game was tied 16-16 after the final game, but OSU won by criteria."
That's bizarre. What are "criteria?" Did they have more pins or more traps? Did their uniforms look better? Did they get a point for cheering louder? No idea. Never heard of it.
nicku87 asks: Would you give it a 50/50 chance that both Kobe Brown and Isaiah Mosley will be back next year?
GD: Probably around there. I think I might give Kobe Brown a slightly higher percentage than Mosley, especially after Mosley didn't play again on Tuesday night. Kobe has been here for four years. He is the face of the program. If they make it to the tournament this year and are as good or better next year, he has a chance to put up numbers that will put him on some all-time lists in Missouri and would probably be the most popular player here in a decade. That's worth something. Mosley's been here for six months now. That doesn't mean he's less invested or that his contributions mean less, but there's probably a slightly less deep feeling for the program. And Mosley's year was, well, bizarre. I don't think either one is a real NBA player. NIL can keep them both here. Or they could both just be ready to try things at the next level, whether that's the NBA or not.
tigerfever00 asks: IF the baseball team has another dud season, will Bieser be gone? Understand that baseball is not a source of income, but if a change is needed then so be it…a new coach can bring some life to the program.
GD: It is certainly possible and I would even say probable. Bieser is under contract through the 2024 season. He makes $400,000 a year, so even if he's guaranteed the full amount, that's not really a buyout price tag. In seven seasons (one of only 16 games due to COVID), Bieser is 158-131-1. That includes 57-92-1 in SEC play. Missouri has never been .500 in the league and has never made an NCAA tournament. He was not hired by Desiree Reed-Francois. So yes, the seat is hot.
wehrli_22 asks: if you had only one word to describe the following coaches, what would it be?
GD: Potion: Potential
Dennis Gates: Guarded
Nick Saban: Dear
Sam Pittman: Yessirrrrrrrrrrr
Brad Underwood: Fiery
Eric Musselman: Shirtless
Deion Sanders: Showy
John Calipari: Polarizing
saltiger22 asks: Is it crazy to say the HCLA seat should be hot next year if this isn't a WCWS team? This is year 5 for her.
GD: Yes, it's crazy. Larissa Anderson is 134-71, has made it to the NCAA Tournament every year it's played, hosted a Regional twice and a Super Regional once. Her chair is nowhere near warm.
mpeples asks: The boys who chose to transfer from football, did they leave school before the new semester started?
WashMoTiger49 asks: Why are you openly cheering for kickoff at 11am, but then complaining about the turnout?
GD: I advocate the 11:00 kickoff for purely selfish reasons. And I haven't complained about the turnout all year. In fact, during football season I said I wouldn't knock on Mizzou's turnout anymore because it's up to the teams to give them a reason to show up. And Missouri fans have shown up this year. No longer do the fans beat me. They have shown that they will be there if you give them a decent product.
Assault Avocado asks: If Blake Baker puts together an even better defensive team than this year, do you think he'll be offered a HC job worth taking?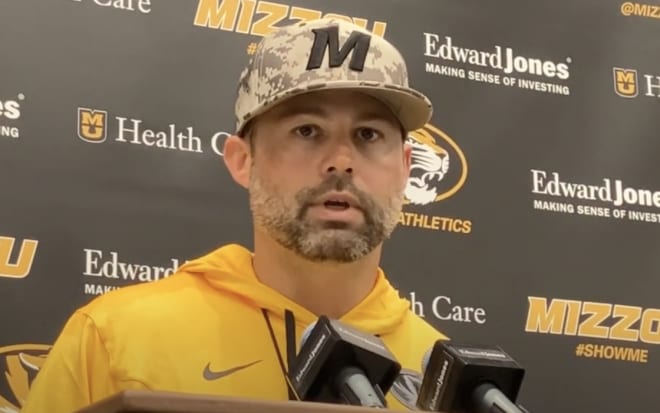 GD: I definitely think it is possible. I thought he might get some looks last year. Had Willie Fritz eventually left Tulane, I think that could have happened. I felt USF should have given him a look.
vegastiger2 asks: Now that we're certain (barring complete disaster, knock on wood) to get to the NCAA tournament, if you could choose which 1st/2nd round site Mizzou should play on, which one would you choose ? Position 1st, 2nd, 3rd?
GD: Here are my picks in order:
Des Moines: I can drive
Columbus: I can drive
Denver: It's a pretty easy flight
Birmingham: easy flight
Greensboro: Affordable
Albany: Surprisingly affordable
Orlando: Not nearly as affordable and I have to go to Orlando
Sacramento: even less affordable
And yes, again, these are purely selfish answers. But you asked where I would choose, so that's my reasoning.
tunnel asks: A 12 inch pizza with anchovies and sardines, 24 oz sour beer and 8 oz glass of Jeppsons Malort. What order would you choose to start/end each and why?
GD: The first two sound disgusting and I had to google what the third one was. So I wouldn't have them. But if you forced me to take one, I'd take the sour one.
Becker3448 asks: I am extremely impressed with the work DRF has done since coming on campus. She brought in Gates and increased the assistant money pool in both MBB and football. She cleaned up the house by immediately firing Cuonzo Martin (despite a previous connection) and brought in a new volleyball coach after a disastrous season. What do you think of her and do you think she is on the radar of other schools in the country or is it too early to say?
GD: She has done very well so far. I honestly don't know what complaints a fan would have. She has listened to the fan base and implemented many of the things they requested on game day. She is more present in both sports. She is committed to them financially. So far, so good. Her name was on many lists last year and I'm sure it will stay on some. But I think it helps Missouri's efforts to make sure her son is in school here and from what I can tell the family genuinely likes Columbia.
bmorrow23 asks: What day does spring football start and how many practices can they have until the spring game on March 18?
GD: It starts sometime in late February. They can hold 15 workouts over 34 days. I believe the spring game is March 18 and Mizzou will have 2-3 more practices that week after the spring game.
Carnell75 asks: Pre-season All SEC is actually a price from last year. Can you guess who will make it based on performance and return? (Spring Ball has no influence, right?)… (Dom would have been a lock…is he locked based on Mizzou even though he is on a diff team in diff attack?)…I think that makes Ennis and Abrams-Draine one of three teams… Javon Foster?
GD: I'm not sure how many teams the SEC sends out in the preseason. I want to say it's two, but it could be three. I think Kris Abrams-Draine is confirmed. He's the only man I expect to be in the first team. I think Ty'Ron Hopper, Darius Robinson, Ennis Rakestraw, Jaylon Carlies, Luther Burden And Jason Foster may be second or third team candidates. Harrison Mevis could make one too.
rlt002 asks: What environment do you find the most exciting/electrical/intensive etc. to be at the game… A big game in college basketball or a big game in college football? Why? If you could shoot with anyone (other than your son or a family member) on any course in the world 18, where and with whom would you choose?
GD: It's football, largely because there are four or five times as many people at an important football game. Also, there are so many fewer games that every football game is just a bigger deal and the biggest basketball games are tournament games played in neutral venues where there are often more fans who may not be fans of either team. Basketball can get pretty crazy because it's indoors and a much more compact space, but the football vibe is just different.
I would play St. Andrew's with Tom Watson. This isn't even a difficult question.
djm023 asks: At this point everyone should understand that it's hard to win on the road in college basketball (or any sport really, but it seems to be more so in basketball). What is your feeling about the why? As far as I can remember, going out on the road is always considered a challenge, unless there's a big mismatch in talent. Even then, disruptions will occur.
GD: The biggest reason is service. It's just so focused on the home team (some more than others, but almost every home team benefits from the whistle). Second, you throw in a team that has to travel and sleep in a hotel, different shooting environments and the fact that we're dealing with 18-22 year olds, it all adds up. But number one is definitely on duty.
Carnell75 asks: Casino or Goodfellas and why?
GD: Goodfellas, because I'm not even sure I've seen Casino at all.
kwj7x2 asks: What's the saddest question you've ever asked in an interview?
GD: Nothing immediately springs to mind. That's not to say I haven't asked stupid questions, because I absolutely have. But I don't really remember asking anyone that has stuck with me to the point that I remember or anyone was angry for an extended period of time.
Stay up to date with all Mizzou news with your premium subscription
Talk about this story and more in The Tigers' Lair
Get up to date with all the Tiger news and headlines
Subscribe to our YouTube channel for video and live streaming coverage